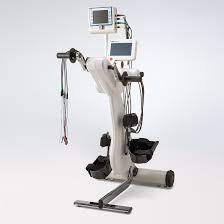 HASOMED RehaMove2 with MOTOmed loop.la prof FES-Cycling
Regular price $20,390.00 Factory Direct Price
RehaMove + MOTOmed loop.la prof
FES and Exercise Bike Included
Upgrade your MOTOmed with FES
RehaMove2 and MOTOmed communicate via a data cable which allows data exchange of all relevant parameters (angle or position of the crank arm, rpm and rotational direction, symmetry, gear, time, distance). Stimulation sequences of controlled channels are triggered by angle-based MOTOmed data. Thus, the stimulator "knows" the right stimulation time of each muscle.
Choose with your RehaMove2 between adaptive and constant training mode
In adaptive mode, the current intensity adapts to the active rpm of the user.
Therapy goal: Support the residual muscle function of the user and adapt the stimulation depending on muscle fatigue.
In constant mode, the current remains the same regardless of the active performance of the user.
Therapy goal: Active movement even with residual muscle function.


8 stimulation channels for various FES applications
RehaMove2 Sequence Training offers the stimulation of various functional movements, such as, 1-channel wrist extension up to 8-channel gait training. All stimulation channels can be individualized related to user and clinical needs. RehaMove2 Sequence Training can be activated via additional licenses for present stimulators.
As well as for RehaMove2 FES Cycling, Sequence Training includes templates for the most common applications e.g. FES walking, crawling, sit-to-stand or shoulder stabilization.